Italy's 'Martian Mayor' withdraws resignation
Comments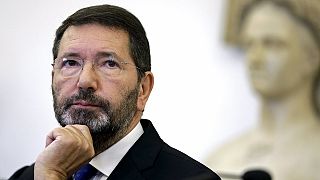 Italian politics is known for its twists and turns and Thursday (October 29) was no exception.
Rome Mayor Ignazio Marino has withdrawn the resignation he tendered on October 8 and signed on 12.
When he stepped down Marino cited a law giving a cooling-off period of 20 days to change his mind. It was an opportunity he decided to seize.
"I believe there is a place that is sacred to democracy, and that is the assembly of a parliament or a city council. I am absolutely ready to confront my majority, but only in that democratic place," he announced on October 29.
Embroiled in an expenses scandal, Marino originally handed in his resignation under pressure from Prime Minister Matteo Renzi.
Although he lacks the support of the prime minister and members of their Democratic Party (PD) and has steadily lost popularity since his election in 2012, Marino has vowed to battle on. His political boldness has earned him the nickname the 'Martian Mayor.'
It seems he started his Mayoral career as he meant to go on. Marino was an outsider from the start and originally put himself forward for the role of mayor without the backing of the PD.