Yemen: Saudi-led air strikes to end as attention turns to talks
Comments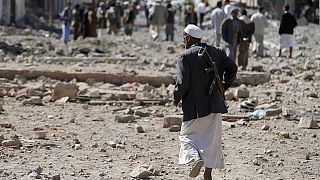 Saudi-led military operations in Yemen are nearing their end with the focus now turning to political talks.
That was the message from the foreign ministers of both Saudi Arabia and Britain which has given technical support to the Saudi-led op .
The Arab coalition has been bombing Houthi rebels and their allies since last March.
Riyadh says the Houthi rebels have clearly committed to carrying out a UN resolution to withdraw from key cities.
Saudi Foreign Minister Adel al-Jubair said in a joint press conference with Britian's Philip Hammond:
"We also see the gains that have been made on the ground. Most of the Yemen's territory that was captured by the rebels has now been recaptured by the government forces."
The Arab military operation has been fought to return exiled president Abd Rabbuh Mansour Hardi to power. It has killed at least 5,600 people, more than half of them civilians and contributed to a major humanitarian crisis.
In the latest incident the UN has blamed Saudi air strikes for the destruction of a hospital operated by the international charity Doctors without Borders – Riyadh is calling for an investigation.