Nigerian military 'frees 338 hostages' from Boko Haram camps
Comments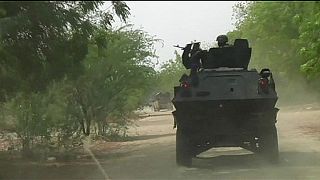 Army raids on Boko Haram camps in north-eastern Nigeria are said to have resulted in the release of 338 hostages.
According to a military statement most of those freed were women and children. Guns and ammunition were also found.
The raids took place on the edge of the group's Sambisa Forest stronghold.
The vast reserve is said to be littered with landmines, making it hard to penetrate.
Around 30 suspected jihadists were reportedly killed during the operation. Government troops say they apprehended and killed an additional four Boko Haram members, who were believed to be on a suicide bombing mission in nearby Adamawa state.
More than 200 schoolgirls kidnapped by the Islamist faction in April 2014 are thought to be being held in the Sambisa Forest. It is not clear whether they are among the freed captives.
The Nigerian army claims to have carried out a number of recent successful hostage-release operations in its bid to end Boko Haram's six-year insurgency.
Since 2009, at least 17,000 people have been killed in Nigeria and more than 2.5 million have fled their homes.