Migrant crisis: Two children and a man drown near Lesbos
Comments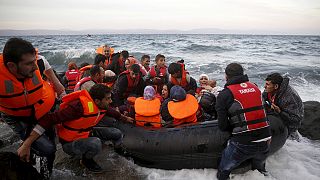 At least three migrants drowned and the Greek coastguard rescued 242 others when their wooden boat sank north of the island of Lesbos on Wednesday, authorities said.
"We do not have a picture of how many people may be missing yet," a coastguard spokeswoman said.
Three people – two small boys and a man – were found drowned, and an extensive search was under way in the area.
Lesbos, which lies less than 10 kilometres from the Turkish coast in the north Aegean Sea, has been a primary gateway for thousands of migrants entering the European Union's outermost border this year.
More than 500,000 refugees and migrants have entered Greece through its outlying islands this year, in what has become the biggest humanitarian crisis on the continent in decades.
Source: Reuters