Ivory Coast's President Ouattara wins second 5-year term
Comments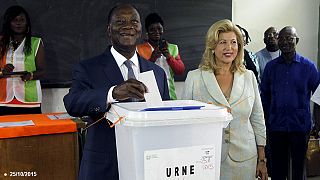 .
Ivory Coast's President Alassane Ouattara has won a second 5-year term after scoring a landslide victory with over 83 percent of the vote.
The results have been released by the country's election commission after last weekend's poll.
Three opposition candidate had dropped out of the race in the days before the election, claiming it had been rigged and calling for a boycott. Six others went on to contest the poll.
Pascal Affi N'Guessan, who heads ex-President Laurent Gbagbo's Ivorian Popular Front (FPI) has come a distant second.
It was Gbagbo's refusal to accept Ouattara's 2010 poll victory which sparked a conflict that killed 3,000 people. He is now awaiting trial before the International Criminal Court in The Hague accused of war crimes against humanity.
Sunday's vote was judged to be peaceful and transparent by observers, with a turnout of between 53 and 60 percent.