Istanbul: hundreds protest police raid on opposition media
Comments
By
Euronews
with
Reuters, APTN, Bloomberg, AFP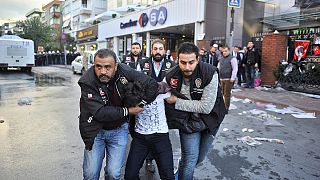 "A free press cannot be stopped," protesters shouted in Istanbul on Wednesday (October 28), in front of an opposition media company that was raided by police earlier in the day.
About 500 people gathered in front of the offices of Kanalturk and Bugun TV, two channels owned by Koza Ipek Holding, which has links to Fethullah Gulen, the US-based Islamic cleric and archenemy of President Recep Tayyip Erdogan.
Journalists tried to prevent police from storming their offices, but they were pushed back with tear gas and water cannons. Police then stormed the TV control rooms and pulled the plug on live broadcasts.
Critics said the crackdown aims to silence the opposition ahead of Sunday's snap election, which was called after a June 7 vote stripped Erdogan's ruling AK Party of its single-party majority in parliament, and coalition talks failed.
Brawls break out as Turkey cracks down on media firms linked to Erdogan critics https://t.co/BUpf5NX09spic.twitter.com/E5oNcTAEF1

—

AJE

News (@AJENews) October 28, 2015
One woman said she was protesting "because of the censorship on the press… and in the name of democracy."
Journalists and opposition figures also said they would stand firm.
Selahattin Demirtas, co-chair of the pro-Kurdish People's Democratic party (HDP), which beat expectations in June's election with more than 13 percent of the votes, said: "One way or another, for a long time we have faced similar kinds of unlawful, unconstitutional practices that are not based on any national or international law. In that regard (the raid) didn't shock us or surprise us, but it was unacceptable."