Kurdish vote expected decisive in Turkish elections -- again
Comments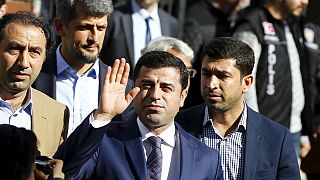 In Turkey's elections this Sunday, the Kurdish vote is expected to prove decisive. Turkey has nearly 54 million voters, and in last June's elections, six million of them voted for the Kurdish-dominated Peoples Democratic Party (HDP). This meant more 80 seats in parliament, and an end to the 13 years of one-party rule by the Justice and Development Party (AKP).
But how the Kurds will vote could vary according to where they are.
In Esenyurt, part of Istanbul, we talked to a family about the differences in concerns comparing the southeastern region and Turkey's biggest city, where views tend to be less regionally focused.
Husna Kaplan said: "We want peace, more calm."
Onur Kaplan said: "If you live in the southeast region, you face the policies of the state (he refers here to military operations). But Kurds in the west of Turkey are different. We can't say we're assimilated, but we are far away from the southeast, don't think the same way. There may be differences in voting trends."
Our correspondent asked a Kurdish political author about the end of the peace process between Ankara and the Kurdish PKK militant separatists and the escalation of violence.
Bora Bayraktar, euronews: "Turkey's political climate is very different from the last polls. Can you define the mood in terms of the Kurdish question?"
Ümit Fırat, Kurdish author: "We are in a very different time compared with the June 7th elections. There is strong violence and fighting. There is a war of sorts. Under these circumstances, we cannot talk about a genuine election campaign. There is no political discussion in the region. Therefore, these elections are taking place in an environment that is much tenser than during the worst clashes of the 1990s."
euronews: "What is your assessment of relations between the HDP and the PKK?"
Fırat: "The PKK has expanded its regional borders. They have organisations in Iraq and in Syria. But the HDP is the legal branch of the PKK in Turkey. And it is limited within Turkey, active only in Turkey. This is how we should view the HDP."
Atilla Sandikli, a retired army officer and terrorism expert, established there is an increasingly strong link between Turkey's power politics and regional conflict.
euronews: "Will Turkey re-start the peace process after the elections?"
Sandıklı: "That will be directly related to the results of the elections. If the AKP wins a majority and returns to one-party government, it will continue military operations. In the event that the PKK is marginalised, or if they withdraw their armed groups from Turkey, we can expect that the peace process which is on ice may come out for more regional democracy, rights and economic development. If the AKP forms a government with the Nationalist Movement Party (MHP), we can expect more hardline operations against the PKK."
Our correspondent summed up: "Turkey's big cities have large Kurdish populations, as Kurds have migrated. This is where the political parties are concentrating their competitive efforts, to win their votes."