Germany sharpens its tone with Austria over migrants
Comments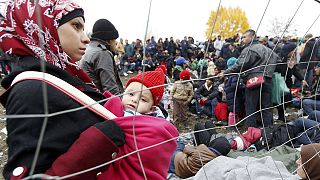 Germany has accused Austria of sending people over their common border under the cover of darkness to escape detection.
The flow is thought to have accelerated over recent days due to a backlog of migrants travelling further through the Balkans to avoid barriers on the border.
Sharpening his tone, Germany's Interior Minister Thomas de Maiziere urged Vienna to play by the rules.
Austria 'Out of Order,' Germany Says: The German interior minister, Thomas de Maizière, on Wednesday criticize… https://t.co/DcvR6mUFtO

— Germany News Links (@dlGermany) October 28, 2015
Speaking at a press conference, he told reporters:"Austria's recent behaviour is out of line. They are wrong to dump migrants on the border between the two countries under the cover of darkness without any warning, preparation or precaution."
Austria's border with Slovenia
Austria, meanwhile, says it plans to erect a fence at its busy border crossing with Slovenia.
Austria is considering building a border fence to stem the flow of migrants https://t.co/Qu2KdyShwCpic.twitter.com/FBlHojhAUX

— The New York Times (@nytimes) October 28, 2015
The aim is to control the flow of refugees and migrants, which has shifted westwards since Hungary closed its border with Croatia.
Austria to build Slovenia border fence https://t.co/HcscGOqbGJ via POLITICOEurope</a></p>&mdash; S Thistlethwaite (Londononlytime) October 28, 2015