Bidhya Bhandari elected Nepal's first female president
Comments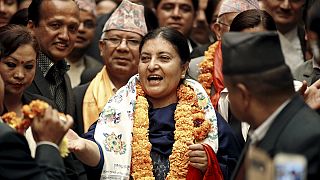 Nepal has a new president, and for the first time, it's a woman.
The Himalayan nation's parliament on Wednesday (October 28) chose Bidhya Bhandari, 54 and currently vice-chair of the ruling Communist Party, for the largely ceremonial role.
Her election comes one month after the country passed a new constitution. The first drawn up by elected representatives, the constitution was meant to cement peace and bolster Nepal's transformation to a democratic republic after decades of political instability and a 10-year Maoist insurgency.