Turkey:30 arrested in further raids
Comments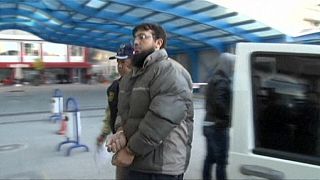 Police officers have carried out night-time raids in the central Turkish city of Konya.
The security forces are looking for suspected ISIL militants.
Turkey: Around 30 suspected Islamic State terrorists arrested in Konya https://t.co/7II94LqaZ2

—

ESISC

(@EsiscTeam) 27 Octobre 2015
Officers say at least 30 people were detained.
35 held as anti-terror squads storm suspected #ISIL bases
https://t.co/6AXdqSbYEm
#Turkey#Istanbul#Konyapic.twitter.com/u0Fvgxxdai

— Yeni Şafak English (@yenisafakEN) 27 Octobre 2015
The sweep comes a day after a series of police raids were launched on more than a dozen houses in the southeastern city of Diyarbakir.
Police raid ISIL cells in Diyarbakır, opposition says belated move https://t.co/iCLVKtgeUKpic.twitter.com/9yQRbt8a3s

— Today's Zaman (@todayszamancom) 26 Octobre 2015
Seven suspected militants were killed and 12 arrested.
Action intensifies after Ankara and ahead of election
Anti-terrorism operations have been extended after a double suicide bombing in Ankara killed more than 100 people.
Turkey is also preparing for an election next weekend.