Rugby World Cup: Australia on the mend ahead of historic final
Comments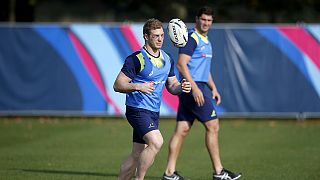 Australia have been readying themselves for the historic World Cup final against New Zealand this week.
At their training base near Twickenham, the Wallabies' focus has been on recovery following a bruising semi-final clash with Argentina.
Several key players have been under medical surveillance, but according to coach Michael Cheika the prognosis is upbeat.
He said: ''Not too bad actually, just been down we had a recovery now and spoke to the doc and the physios and our players that went into the match with some injury are looking pretty good. The way they came out of it. Probably much better than we expected. So we'll probably see how that progresses.''
Australia and New Zealand will lock horns in the highly-anticipated final at Twickenham where the preparations for the teams and fans, in and around the stadium, continue.
It will be the fourth time in eight editions Australia are in the final.
They are hunting a first title since 1999 and a record third crown having also won in '91.