Fears of unreported deaths in remote earthquake-hit areas of Afghanistan and Pakistan
Comments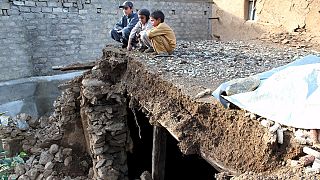 With over 100 official deaths in Afghanistan following the earthquake in the extreme north of the country, few people believe the total number will stay at that level for long.
Much of the worst-affected area is remote with poor communications, and no news has filtered out yet of the damage and casualties.
It is the same problem in Pakistan, where over 200 deaths have been confirmed. Now the dangers come from illness, exposure, and hunger and thirst.
"The WHO is concerned about increasing health needs when an earthquake strikes. Apart from the immediate trauma and injuries, we can expect to see a number of health risks such as waterborne diseases, diarrhoea, dysentery, hepatitis A and E, acute respiratory infections, other vaccine-preventable diseases such as measles, pertussis, tetanus and so on so forth. Then, of course, we have post-traumatic stress disorders, wound infections, injuries, malaria, dengue, and so on and so forth," said the World Health Organisation's Christian Lindmeier.
At least the Taliban has said it will not hinder aid agencies after targeting them in the past, and has called on them "not to hold back" with their efforts.
One of the worst single incidents was at a school in Afghanistan, where many of the casualties perished in a panicked stampede to get out with the building shaking around them.
Their funeral in Takhar was an emotional one.