Farrington claims Red Bull Aces wingsuit title
Comments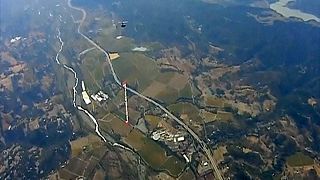 As adrenalin-pumping sports go it doesn't get much better than Red Bull Aces wingsuit racing.
Combining speed, precision and agility, four athletes at a time jump from a helicopter at 8,000 feet above sea level and fly – head-to-head at 260 kilometres an hour through a slalom course of five gates positioned at descending altitudes.
40 athletes from 18 nations took on the challenge in Northern California but only one could be crowned champion – for the second year in a row that honour went to Andy Farrington, who led an American clean sweep of the podium.
Noah Bahnson was second and Matt Gerdes third.