Several die in Diyarbakir dawn raid
Comments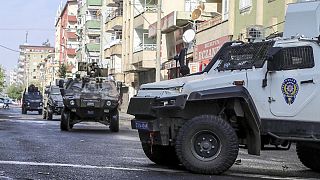 At least seven suspected ISIL militants and two police officers have been killed during a series of police raids in Turkey.
Eyewitnesses say the police are trying to make safe an address in a suburb of Diyarbakir after a raid at dawn.
Turkey says nine dead in clash with Isis suspects https://t.co/hwqRCBJLyJ

— Guardian World (@guardianworld) 26 Octobre 2015
Eyewitnesses in Diyarbakir told the police was still clearing explosives, traps inside the ISIS house at 11 am after the deadly raid.

— Ayla Albayrak (@aylushka_a) 26 Octobre 2015
Eyewitnesses say the fighting continued over a period of time in the majority Kurd city in the south east of the country.
7 ISIS members were killed, 3 detained alive in clash following police raid into ISIS cell in Diyarbakır this morning — Doğan News Agency

— Ayla Albayrak (@aylushka_a) 26 Octobre 2015
Diyarbakir police say fighting is still continuing with suspected ISIS militants. "More than 4 IS& 2 police killed" pic.twitter.com/qdWwa3adJo

— Güney Yıldız (@guneyyildiz) 26 Octobre 2015
The police raided more than a dozen houses at dawn in the Kayapinar district. Four police officers have been wounded and three alleged militants arrested.
There were reports of intense gunfire continuing in the area.
*Police crackdown follows Ankara bombings
The Turkish authorities have launched a crackdown on alleged militants over the last two weeks.
A number have been arrested, including four in connection with the recent suicide bomb attacks on a peace march in the centre of Ankara in which more than 100 people died.