Magnitude 7.5 earthquake hits Afghanistan, Pakistan, India
Comments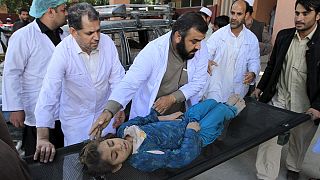 A magnitude 7.5 earthquake has struck south Asia near the Afghanistan-Pakistan border killing scores of people.
The quake was felt in the Indian capital New Delhi, though no damage was immediately reported.
India's northern region of Kashmir experienced intense and prolonged tremors.
The epicenter was northern Afghan province of Badakhshan, which borders Tajikistan and China. It was centred on a remote area of the Hindu Kush mountain range.
Reports from Pakistan said the quake was felt across the country. In Islamabad buildings shook and people poured into the streets in a panic, many reciting verses from the Quran.
According to a military statement, Pakistan's army chief ordered troops to the areas affected by the quake.