Montenegro: Clashes as demonstrators demand resignation of veteran PM Djukanovic
Comments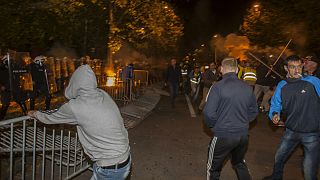 Feelings ran high on Saturday night as some 5,000 demonstrators gathered outside Montenegro's parliament to demand the resignation of veteran Prime Minister Milo Djukanovic and early elections.
Some hurled stones, flares and incendiary devices and tried to break through a police cordon.
Security forces fired teargas for the second successive weekend and Interior Minister Rasko Konjevic told a news conference that 15 police officers were injured, one seriously, and that 24 civilians sought medical treatment.
Andrija Mandic, a leader of the Democratic Front opposition alliance that staged the protest, and his ally Slaven Radunovic were taken for questioning over their roles in the incident, the minister said.
Under Montenegrin law, Mandic enjoys immunity from arrest unless the offence is punishable by a prison term of over five years.
The opposition says the ex-Yugoslav republic is run as a fiefdom of Djukanovic, who has been in power for two decades. The government rejects this – saying protests were staged to prevent Montenegro from joining NATO.
Montenegro is a candidate to join the European Union and is expecting an invitation to join NATO. It is scheduled to hold a parliamentary election next year.