Turkey: Jail sentences given to more than 200 over 2013 protests
Comments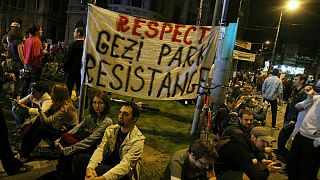 A Turkish court on Friday gave jail terms to more than 200 people over protests in 2013.
Sentences of up to 14 months were handed down to 244 defendants over protests that began as an attempt to halt the redevelopment of a park in Istanbul and spiralled into the worst political unrest for years.
Some 255 people had been charged with crimes such as damaging public property and taking part in illegal protests, and judicial authorities sought jail sentences of up to 11 years, according to the Hurriyet Daily News.
#Turkish court convicts 244 protesters over #Gezi Park protests https://t.co/t7MNhcluojpic.twitter.com/TuLl7wMy6g

— Hurriyet Daily News (@HDNER) 23 Octobre 2015
The demonstrations over Istanbul's Gezi Park and the police crackdown captured international attention and sparked concern about growing authoritarian rule in Turkey.
Then-Prime Minister, now President Recep Tayyip Erdogan, dismissed the protesters as "riff raff" and terrorists.
The unrest spread to cities around the country.
Four doctors were sentenced to 10 months in prison for "polluting a mosque", after giving medical aid to protesters inside a mosque following a clash with police, according to the Hurriyet Daily News.