Polish right would tip EU centre of gravity eastward
Comments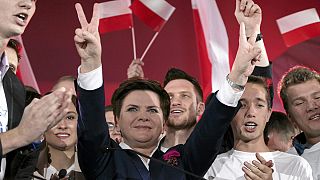 Beata Szydlo (pronounced 'shédwa') of Poland's right-wing Eurosceptic Law and Justice party (PiS), at 52 could lead a new nationalist-driven government.
Already the party's Andrzej Duda became president in May. This and Szydlo's conciliatory stance leave room for former prime minister Jaroslaw Kaczynski, the PiS leader who made her its candidate for prime minister, to speak his mind more freely.
If Poland's step to the right is confirmed in the October 25th elections, the European Union is expected to have a harder time with the refugee crisis and Russia.
Drawing accusations of fascist imagery, two weeks ago, Kaczynski said migrants are carriers of "dangerous diseases", which Europe has not seen in a long time: "cholera in the Greek islands, dysentery in Vienna."
He said: "All kinds of parasites and protozoa which are harmless to these people may become dangerous here. There are differences related to geography."
Kaczynski said last month the pro-European government of Civic Platform had no right to take decisions on accepting migrants under foreign pressure (referring to EU quota plans) on the grounds it might hurt the daily lives of Poles.
In September, the EU approving the shared resettlement of 120,000 refugees across its 28 member states brushed aside strong opposition from four ex-communist eastern countries.
The Czech Republic, Slovakia, Romania and Hungary voted against the European Commission scheme, with Finland abstaining.
Never forgetting the Soviet era, Law and Justice look set to reharden relations with Russia, focusing on more NATO involvement in Eastern Europe.
Only four Atlantic Alliance members currently meet its target of 2% GDP investment in defense. Poland is close to that goal, and a PiS government would likely carry on that policy. A great deal of Poland's equipment is outdated.
Volunteer militia in Poland and in the Baltic states train for combat, fearful of any Russian activity such as seen in eastern Ukraine.
The next NATO summit is scheduled for next July in Warsaw.
Shifting right in the EU's largest eastern member state comes with doubts about financing: new taxes on banks and supermarkets, possibly advantages for nationally-managed companies, high deficit spending including social programs…
Yet the country that gave the world the 1980s Solidarity movement is increasingly against applying solidarity to Europe's refugee crisis today.