One dead, four wounded in Swedish school sword attack
Comments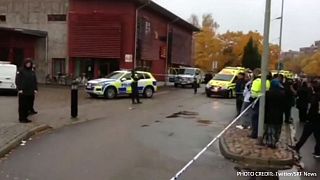 A masked man wielding a sword killed one person and wounded four at a school in western Sweden before being shot by police, authorities said on Thursday.
The victims included one adult and four children. It was unclear which of the five had died.
"Four persons have been taken to the hospital from the school," said Niklas Claesson, head of communications at NAL hospital in the town of Trollhattan. "The assailant is being treated for gunshot wounds. The other people treated at the hospital are young but not kids. Some of them have serious injuries and are being operated on. One person is deceased at the scene."
The incident occurred at the Kronan school in Trollhattan, an industrial town of around 50,000 inhabitants north of Gothenburg. Photos by a local news agency showed several ambulances and police cars on the scene as emergency service staffers dealt with distraught adults and teenagers.
A police cordon was marked out with white tape. Police said they had responded to an emergency call saying a masked man with a sword was on the premises and that a person had been attacked at or near the school cafeteria.
Reuters