Mexico holds suspects behind El Chapo jail break
Comments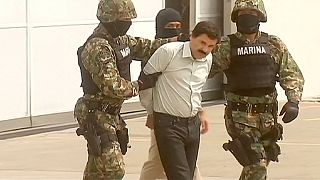 Mexican authorities said on Wednesday (October 21) they arrested six people suspected of planning and carrying out the spectacular jail break by the world's most-wanted drug lord, Joaquin Guzman, also known as "El Chapo" ("Shorty").
Guzman's arrest last year had been a victory for the Mexican government in its fight against drug trafficking, but his escape from a maximum-security prison in July was a major embarrassment.
Attorney General Arely Gomez said the alleged mastermind of the escape is a member of Guzman's legal team who was able to enter the prison. Other suspects arrested included Guzman's brother-in-law, who is believed to have supervised construction of the 1.5-kilometre tunnel leading from the shower in Guzman's cell.
Inside the tunnel, officials say "El Chapo" hopped onto a motorbike mounted on rails, emerged into the countryside and managed to catch a small plane to his home state of Sinaloa, where he heads a powerful drug cartel.
Gomez did not name any of the suspects but said they planned, organised and carried out the jailbreak with the complicity of officials inside the lockup. Two dozen prison officials and employees have been arrested as part of the investigation. But Guzman is still at large.
Mexico said last week that Guzman had narrowly escaped capture by police, but injured his face and leg in the process.