Joyful reunion of Syrian family in Greece
Comments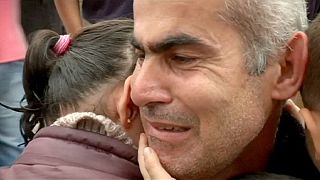 Syrian refugee Zaki Ismail Khalil has finally been reunited with his family after a gap of more than a year, he claims.
They attempted to settle in Turkey in 2013, but found few job prospects and little housing for Syrians, so in February 2014, Khalil set out for Sweden in the hope his family would soon be able to join him.
But their application to enter the country was rejected.
"These past two and a half years have been difficult for me and for my children," he said. "I did it all for them. I have been living for nearly two years waiting for this moment to see them arrive here and hoping that we will make it to Sweden and settle down."
He arranged for his family to travel illegally by dinghy to Greece, the first port of call in the European Union. From there, they hope to move north to Sweden where the family will once more attempt to seek asylum.