Assad would welcome Russian support for anti-ISIL rebels - Putin
Comments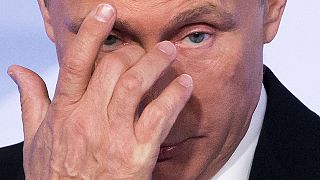 A grand coalition against ISIL militants in Syria is an initiative that Moscow would like to see and it would not displease Damascus, according to Russian President Vladimir Putin.
He told a forum in the Russian city of Sochi that his Syrian counterpart Bashar al-Assad would welcome any future Russian backing for rebel groups taking on the self-proclaimed Islamic State.
Speaking after their surprise meeting in Moscow earlier this week, Putin said he asked Assad how he would view an armed opposition force that was genuinely ready to combat Islamic State militants.
He said he asked Assad: 'How would you react if we support their efforts in the fight against terrorism in the same way as we are supporting the Syrian army?
"He answered positively," Putin revealed.
The Russian President added: "We are now thinking about this and are trying, if it works out, to reach these agreements."
Putin's comments reflect a growing sense in the Kremlin and beyond that Russia has a better chance than most to combine its increased influence over President Assad with its military muscle in Syria's skies to broker a deal to end the civil war.
But the United States on Thursday blasted Russia's military strikes in Syria, saying they were strengthening ISIL militants, killing dozens of civilians, forcing tens of thousands more from their homes, and destroying schools and markets.
During a UN Security Council meeting on the Middle East, US Ambassador to the United Nations Samantha Power referred to a Reuters analysis of Russian Defence Ministry data that found almost 80 percent of Russia's declared targets in Syria have been in areas not held by Islamic State.
Almost 80 percent of Russia's strikes in Syria don't target Islamic State, analysis shows: https://t.co/pZdx1AppyWpic.twitter.com/cGQ70eXu8u

— Reuters Top News (@Reuters) 21 Octobre 2015
"By attacking non-extremist groups Russia has boosted, perversely, the relative strength of (Islamic State), which has taken advantage of this campaign by seizing new territory in rural Aleppo," Power said.
"Since Russia began its strikes the Syrian map has shifted in (Islamic State's) favour."
Russian Foreign Minister Sergei Lavrov will try to push Moscow's so far unsuccessful initiative — of a grand
international coalition against the Islamists in Syria — at a meeting in Vienna on Friday.