Last month's Hajj stampede becomes 'deadliest in history'
Comments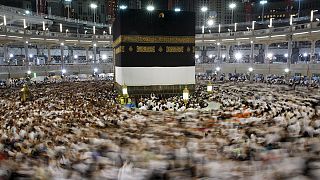 Almost a month after the Hajj stampede, the Associated Press reports the death toll has passed 2,000, making it the deadliest crush in the pilgrimage's history.
Figures released by 34 foreign governments affected by the tragedy seem to back up the tally. However, Saudi Arabia, where the incident took place, has not updated its official toll since two days after the crush, in late September.
Mali is thought to have lost at least 198 pilgrims. Volunteers have set up a crisis centre to help locate those still missing.
Kadiatou Cissoko volunteers at the centre.
"Parents come to post photos of those who are missing, just in case we have any information," she explained. "Volunteers from Mecca have gone to the hospitals to take photos of those wounded in order to make comparisons."
The Hajj religious festival is the world's largest annual gathering of people.
This year, some two million Muslims set out on the pilgrimage to Mecca.
Alassane Touré's mother is among the hundreds of missing pilgrims:
"As of today, we've still not had any information," he said. "It will soon be one month (since the incident) and we've still not mourned… if, in fact, there's any need to do so."
Dèdè Cissé is hoping for news of her grandfather:
"Having no news of your father, mother, son or daughter for a month, not knowing who to talk to and having no reference point, it's just unbearable. It's horrific."
There have been regular accidents on the pilgrimage, despite the Saudi authorities spending billions to improve infrastructure.
An investigation into the cause of the stampede, which took place at the Mina camp, near Mecca, is ongoing.