Pope Francis brain tumour report denied by Vatican
Comments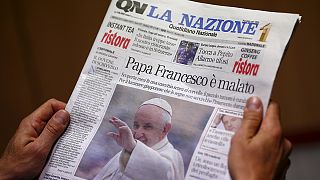 The Vatican denies an Italian media report that Pope Francis has a benign brain tumour.
We waited a long time before publishing the report in order to carry out every possible check. We don't have the slightest doubt that it is founded.
Newspaper group, Il Quotidiano Nazionale, says the pontiff was diagnosed with a curable "small dark spot on the brain."
The paper said it was discovered by Japanese physician Takanori Fukushima during an examination at the San Rossore di Barbaricina clinic near Pisa in central Italy.
The professor reportedly concluded that the tumour was treatable and that no surgery was required.
"The publication of completely unfounded reports on the health of the holy father by an Italian newspaper is seriously irresponsible and not worthy of attention," Vatican spokesman Federico Lombardi said in a statement.
Andrea Cangini, the director of Quotidiano, said he had expected the Vatican's statement.
"This denial is understandable and expected," he said. "We waited a long time before publishing the report in order to carry out every possible check. We don't have the slightest doubt that it is founded."
Report that Pope Francis has brain tumor is "baseless", Vatican says https://t.co/h8YzOfGlH7pic.twitter.com/QvLv1HnLyL

— Bloomberg Business (@business) October 21, 2015