France: PM Valls says perpetrators of traveller riots will be apprehended
Comments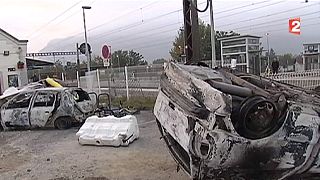 French Prime Minister Manuel Valls says the perpetrators of violent riots in the south east of the country will be brought to justice.
Dozens of cars were torched, a road blocked off and a railway restaurant ransacked in the alpine town of Moirans.
A local traveller community is said to have started the riots after a judge turned down requests for the release of two inmates to attend a family funeral.
A 17-year-old member of the community died while driving a stolen car.
His brother was one of the prisoners requesting temporary leave.
Their mother, Adele Vinterstein, said protesting was the only way of making her voice heard:
"It was the only solution so that people would listen to me. And finally, look, there was no need to go to this extent. It was not what I wanted. I asked for my son to leave prison with an escort, even in chains if necessary, handcuffed, to attend (the funeral). It only lasted an hour."
Around 120 police and 100 firefighters were brought in to control the situation. No casualties were reported.