FIFA crisis: Beckenbauer and Villar investigated
Comments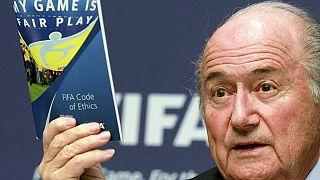 Two new names were thrust into the FIFA spotlight this week after football's world governing body confirmed Germany legend Franz Beckenbauer and the head of the Spanish FA Angel Maria Villar are subject to investigations by the organization's ethics committee.
A statement released by FIFA on Wednesday confirmed that proceedings relating to the two officials have already been passed on to the adjudicatory chamber, but insisted all parties are presumed innocent until a verdict has been reached.
FIFA's statement did not include details of the charges Beckenbauer and Villar Llona face.
Beckenbauer who captained West Germany to World Cup victory in 1974 and then coached the side to the title in Italy 16 years later, was suspended last year for initially refusing to assist the investigation into the bidding for the 2018 and 2022 World Cups.
Villar has been head of the Spanish FA since 1988 and a FIFA vice-president since '98.
The investigation into the pair highlights further the struggles at FIFA as it attempts to recover from the worst crisis of its 111-year history.