Violence breaks out in Congo's capital Brazzaville ahead of controversial referendum
Comments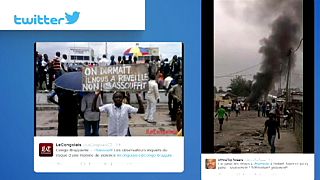 Violence and unrest in the Congo's capital Brazzaville today, where differing reports speak of several dead or wounded, but which have not been confirmed.
The unrest comes ahead of a controversial referendum being held by the long-serving
President Denis Sassou Nguesso, 71 years old, who wants to change the term and age limits in the constitution so he can run again in 2016.
He has held power, except for a five-year break, since 1979.
Thousands of people have taken to the streets, but are refusing to leave them despite the police using tear gas to disperse them.
The referendum vote is on Sunday and the government has banned all public gatherings.
The opposition intends to defy that ban.
Gunfire has been heard and at least one foreign correspondent has reported seeing people in hospitals with serious bullet wounds.
At least one police station has been burned down, and several major roads are now barricaded.