4.5 million children affected by Typhoon Koppu, says charity
Comments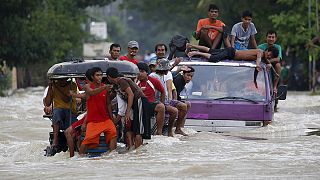 The United Nations children's agency (UNICEF) has launched a 2.5 million euro appeal to help children affected by Typhoon Koppu in the Philippines.
From our own experience responding to other storms in the Philippines we know that children are always the most vulnerable in a disaster.
The charity said children face risks from contaminated water sources, lack of food and epidemics such as cholera, hypothermia, diarrhoea and pneumonia.
Restoring safe water supply for flooded areas is important to keep health risks low.
At least 22 people are now known to have died after the storm tore across the north of the country over the weekend.
UNICEF said more than 12,000 families were staying in shelters and children may be particularly at risk. Its supplies included water purification tablets, hygiene kits, medicines, school supplies, food, tents and generators.
Aid agency Save the Children estimated about 4.5 million children could be affected by the typhoon.
"From our own experience responding to other storms in the Philippines we know that children are always the most vulnerable in a disaster," said Save the Children's country director in the Philippines, Ned Olney. "In the coming days we will determine what support they will need."
Typhoon #LandoPH / #Koppu aftermath: floods, debris, power outages, damaged infrastructure: https://t.co/frREvIl36Opic.twitter.com/i0O2hAK2uS

—

UNICEF

Philippines (@unicefphils) October 20, 2015