Turkey names Ankara suicide bomber and alleges ISIL link
Comments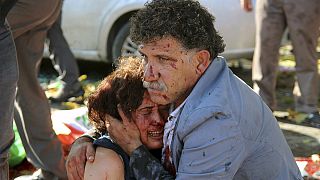 Turkish authorities have used DNA to identify one of two people they suspect were the suicide bombers who this month killed 102 people at a pro-Kurdish rally in Ankara.
He's been named as Yunus Emre Alagoz whose brother Abdurrahman is believed to have been the perpetrator behind the Suruc suicide bombing in July which killed 33 people.
Turkish Prime Minister Ahmet Davutoglu, broke the government's media blackout on the attack to announce the news.
"DNA tests were conducted intensively. And according to those findings the identity of one of the bombers was confirmed. And intensive work is being done regarding the identity of the other (bomber)," the Turkish Prime Minister said.
The investigation into the attack continues. On Sunday four people were arrested adding to the several already detained.
There are reports that the father of the Alagoz brothers had earlier filed a criminal complaint against Yunus on suspicion he had joined an armed terrorist organisation, possibly ISIL.