Marquez makes his 50th mark at Australian Moto GP
Comments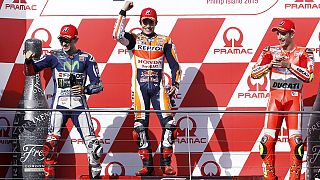 Hello and welcome to Speed. This Sunday, Australia's Phillip Island played host to what's been branded THE race of the year; maybe even of the decade. Marc Márquez celebrated his 50th career win and Jorge Lorenzo edged closer to Valentino Rossi at the top of the Moto GP world standings as the Italian was pushed off the podium places for only for the second time this year.
http://www.motogp.com/en/news/2015/10/18/marquez-s-50th-victory-sets-title-race-alight/187536
At the climax of a white-knuckle feast of daredevil racing between the top four, outgoing champion Marques coaxed his Honda past Jorge Lorenzo before the final turn and roared home to win his first race at Phillip Island and fifth of the season.
Having snatched and lost the lead over and over again during the race, Lorenzo looked very disappointed when taking the chequered flag in second place.
But he soon cheered up after learning that he'd closed the gap to 11 points on leader Valentino Rossi. The penultimate race is in Malaysia next week,
Bulldog on a bike
The proximity of the Pacific Ocean makes the Australian Grand Prix one of the most spectacular in the calendar. The first race was held in 1989 and local boy Wayne Gardner made sure the thousands of fans who turned out had plenty of reasons to celebrate.
"A bulldog on a bike" is how one rival described Wayne Gardner; a competitor known as much for playing up to the crowd or riding ruthlessly to get a result.
Wayne Rainey carved out an early advantage of more than a second but the lead changed hands several times during the race, allowing Gardner to come back and cling on when it counted to take the checkered flag.
Wehrlein's DTM
Germany's Touring Car championships (DTM) was wrapped up on Saturday by Pascal Wehrlein. 8th place in Saturday's race at Hockenheim was enough to earn him the title. Speed returns next Sunday, see you then.
Mercedes Formula One reserve driver Pascal Wehrlein won the German Touring Car (DTM) title to become the youngest ever champion in the series. The 20-year old clinched the title by finishing eighth at Hockenheim, a day before his birthday and with a race to spare.
Wehrlein has set his sights on moving up to Formula One and there has been talk of a possible debut next season with the tail-end Manor Marussia team, who are switching to Mercedes engines. He has tested for Mercedes this year as well as Mercedes-powered Force India.