'Dozens dead' in Nigeria mosque blasts
Comments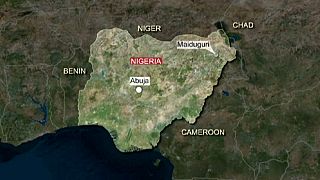 Dozens of people are reported dead after a double suicide attack at a mosque in northeast Nigeria.
It happened during evening prayers on Thursday in Maiduguri, the birthplace of the insurgency by the Boko Haram
militant Islamist group. Reports vary as to the numbers killed – ranging from 14 to more than 40.
Witnesses say the attackers were disguised as worshippers and that one of them detonated an explosive on entering the building, while the second struck shortly afterwards as helpers arrived to assist victims.
There was no immediate claim of responsibility but the city is frequently targeted by Boko Haram, which has killed thousands and displaced 2.1 million people since 2009 in its attempt to create a state adhering to strict Sharia law.
At least four people died in three suicide blasts on Tuesday evening in Maiduguri where dozens were killed in attacks last month.
#UPDATE 'Huge explosions' rock Maiduguri, NE Nigeria: locals, Red Cross http://t.co/1nUDZvkpep

— Agence France-Presse (@AFP) 13 Octobre 2015