Turkish explosions may be linked to ISIL and PKK, says Davutoglu
Comments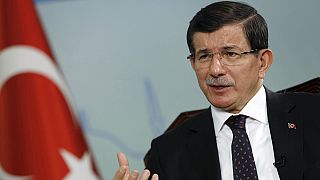 Turkey's Prime Minister Ahmet Davutoglu has told reporters that an investigation into Saturday's (October 10) bombings was being intensified.
"We are deepening our investigation into these attacks, especially looking into Twitter accounts and some IP addresses. We have reached some results and have found that both ISIS [ISIL] and the PKK [Kurdistan Worker's Party] may have played an active role in its organisation," said Davutoglu.
The Turkish prime minister said he would not tolerate any support given by other countries to groups linked to Kurdish militants.
"Just as allied counties would not welcome arms support to groups linked to al-Qaeda, Turkey too would absolutely not welcome arms aid to groups linked to the PKK. Turkey will absolutely not allow any tolerance toward this matter," said Davutoglu.
The two explosions targeted a rally of pro-Kurdish peace activists near Ankara's main train station, three weeks ahead of a general election.