Iran approves nuclear deal in return for easing of sanctions
Comments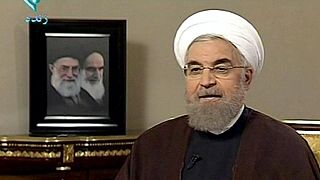 It was a heated session but eventually Iran's conservative-dominated parliament endorsed the landmark nuclear agreement struck earlier this year with world powers. The question now is how soon will it be implemented?
President Hassan Rouhani says he wants to bring the economic benefits of the deal to Iran as soon as possible.
"Next week will begin the time of implementation (of the nuclear deal) and the end of the 90-day deadline previously agreed (…) Once the deal is fully implemented, sanctions will be lifted. It should not take more than one or two months until sanctions are removed. Then a new situation will arise for the country."
But that depends on the the UN's nuclear watchdog, the IAEA being satisfied that Iran has met its obligations and that after visiting its military sites that Tehran is not developing nuclear weapons. Only then will the United States, the United Nations and the European Union rescind Iran's crippling sanctions.
Iran's testing at the weekend (Oct 11), of a new precision-guided ballistic missile, the first such weapon able to reach its regional arch-enemy Israel, hasn't helped in the mutual mistrust which has blighted the discussions. The test defied a UN resolution that bans Ira from developing missiles that could deliver a nuclear warhead.
The incident is to be raised at the UN by Washington as soon as possible.