Japanese tug-of-war over the fate of Okinawa US air base
Comments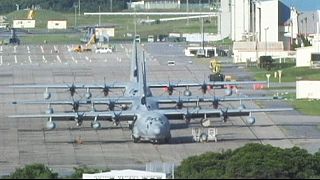 The governor of Japan's southern Okinawa prefecture has revoked a permit allowing the move of a US military base farther away from residents upset about its presence.
The permit, granted by his predecessor in 2013, allowed a more remote coastal area to be reclaimed for the Futenma air base relocation.
Governor Takeshi Onaga revoked it on Tuesday (October 13) on the grounds of "legal defects." Elected last year on a pledge to fight the move, Onaga would like to see the air base and the U.S. troops leave the island altogether.
But Tokyo was not pleased with the U-turn and said it planned to proceed with the relocation anyway. "We were already given a favourable decision from the former governor on this issue and I don't see any legal defect in the approval," said Japanese Chief Cabinet secretary Yoshihide Suga.
It's the latest episode in a tug-of-war opposing the central government and local authorities, and the stalemate is now likely to end up in court.
Local residents have long complained about the US military presence, which dates back to World War II.
Okinawa today houses more than half of the 50,000 U.S. troops stationed in Japan.