Former Liverpool striker Cisse released following blackmail arrest
Comments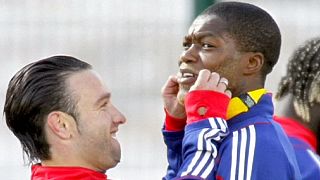 Former Liverpool striker Djibril Cisse has been released from custody following an alleged plot to blackmail his former Marseille and France team-mate Mathieu Valbuena.
It was reported that the 34-year-old was part of an attempt to extort money from Valbuena over a sex tape involving the player and was one of four men arrested by French police on Tuesday.
Valbuena was reportedly asked for money in return for the tape not being published.
According to reports Cisse was placed in custody and accused of conspiracy to blackmail, which can carry a prison sentence of up to five years.
He was released later in the day.
Cisse and Valbuena were team-mates at Marseille and played alongside each other for France.
Valbuena currently plays for Lyon after signing from Dynamo Moscow in the summer.
He has won 50 international caps and is now hoping to make the France team in an attempt to win the European Championships on home soil next year.