Protesters blame Erdogan for Turkey suicide attack
Comments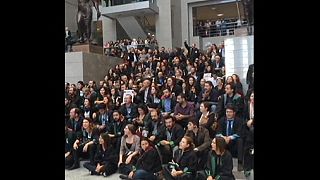 Turkey's official line is that ISIL was likely behind Saturday's slaughter of peace activists in the capital.
But many protesters who took to the streets on Monday to condemn the killings blamed the government for the twin suicide blasts that left at least 97 people dead.
#AnkaraBombing spurs nationwide strikes, as funerals being held http://t.co/c7zHcc6ChHpic.twitter.com/0bplkbj4dU

— Hurriyet Daily News (@HDNER) 12 Octobre 2015
"Killer Erdogan will face justice," was the cry of lawyers at an Istanbul courthouse as colleagues applauded, footage circulated on social media showed.
There is no love lost between the legal profession and Turkey's president but doctors, too, stopped work to protest.
The Turkish Medical Association, which helped organise this weekend's peace rally in Ankara, has also pointed the finger of blame at the ruling AK Party.
A march on Monday in the capital condemned the killings, with many protesters accusing the state at best of intelligence failings and at worst of complicity.
The pro-Kurdish parliamentary opposition Peoples' Democratic Party (HDP) has accused Ankara of escalating violence to try to reduce its score in next month's election, restore an AK majority and pave the way for the more powerful presidential system Recep Tayyip Erdogan seeks.
The government, facing a growing Kurdish conflict at home and the spillover of war in Syria, vehemently denies such claims.
The Ankara attack revived memories of a similar bombing of a pro-Kurdish rally in the southeastern town of Diyarbakir and another in Suruc in July that killed at least 30 and was also attributed to the group calling itself Islamic State.
There was no claim of responsibility and HDP says there was no proper investigation.