Tense presidential poll after clashes in Guinea
Comments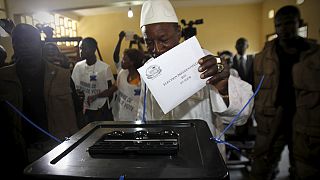 Guinea's President Alpha Conde is widely expected to win a second mandate today in the West African country's second free election since independence from France in 1958.
A different outcome would be preferred by main opposition leader Cellou Dalein Diallo but he has urged calm with no post-electoral violence.
Diallo failed in an attempt to get the poll postponed, citing irregularities, meaning that Guinea's voters cast their ballots on Sunday, as planned, with tension still in the air.
Clashes at the end of the campaign left around ten people dead and many more injured in a country with a history of election violence.
President Conde has championed 'progress' – such as bringing electricity to more people.
But his opponents are stressing a less positive backdrop, like the nation's nearly two year battle against the Ebola virus.