Iraqi military claims to have killed several senior ISIL members including leader al - Baghdadi
Comments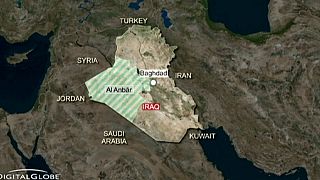 Iraq's air force claims to have killed eight senior members of the the Islamic extremist group known as ISIL. Leader Abu Bakr al -Baghdadi was initially said to have been among those killed but his fate remains unknown.
Iraq's military released this footage of one of the three strikes launch on Sunday.
The attacks are said to have taken lace in Anbar province near the Syrian border. A convoy carrying al -Baghdadi to a meeting plus the venue he was headed for are both said to have been hit.
The Iraqi military's announcement is the latest unconfirmed report of the possible death or injury of al-Baghdadi, who has survived a year of US-led air strikes and multi-sided wars in two countries since proclaiming himself caliph of all Muslims after his forces swept through most of northern Iraq last year last year.
BREAKING: ISIS supporters tweet caliphate will survive "even if" leader Baghdadi has been killed http://t.co/XDXszr4Pyj

—

EDL

LONDON

(@EDLLONDON) October 11, 2015