Four hurt in latest stabbing attack in Israel
Comments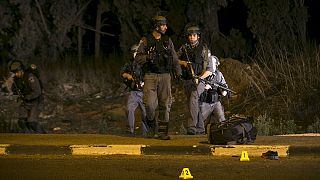 Four people have been stabbed in another knife attack in Israel.
It happened near a bus stop not far from the northern city of Hadera.
One of those hurt, a 19-year-old female soldier, is said to be in a serious condition.
According to police, a car rammed into one person. Then the driver got out and stabbed all four.
An Israeli Arab man has been arrested.
Security forces are confronting a spate of knife attacks against Israelis, mainly by Palestinians.
Tension triggered by a row over access to a religious site in Jerusalem has also erupted into clashes in Israel, Gaza and the West Bank where a 13-year-old boy was shot dead by the Israeli army amid unrest on Sunday.
In Gaza they have been burying their dead, including a 12-year-old boy shot during protests at the border fence on Saturday and a pregnant Palestinian woman and her young daughter killed by an Israeli airstrike. Responding to rocket fire, Israel said it had targeted a Hamas facility.
At least 24 Palestinians and four Israelis have died in the flare-up of violence since the start of the month which Hamas leaders in Gaza have described as a new uprising, or Intifada.