Twin blasts kill dozens in Turkish capital
Comments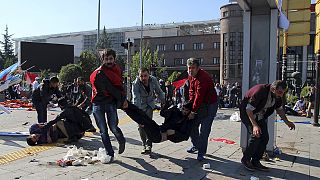 Bodies could be seen scattered across the road after twin blasts rocked the Turkish capital.
The interior ministry reports at least 30 people have died, while more than a hundred and twenty were injured in the city-centre explosions.
The incident occurred near the exit of Ankara's main train station, at 10.04am local time.
Turkish government officials say they are treating the incident as a terrorist attack and are investigating claims a suicide bomber carried out at least one of the blasts. Eyewitnesses say human flesh could be seen at the scene.
Turkey says today's explosion in capital Ankara was a "terrorist attack" http://t.co/2U4w6S0zaZpic.twitter.com/JaHzsANqUI

— AlertNet (@AlertNet) October 10, 2015
Thousands of People's Democratic Party (HDP) supporters were reportedly expected to take part in a peace march through the capital around the time of the explosions.
The planned march was in protest over the conflict between the state and the outlawed PKK Kurdistan Workers' Party in Turkey's south east.
The pro-Kurdish HDP Party has blamed the ruling AK Party for the attack. Leader Selahattin Demirtaş labelled the government "a murderer."
Turkish general elections are scheduled for November 1 after a June vote proved inconclusive.