Two die in university shootings in the US
Comments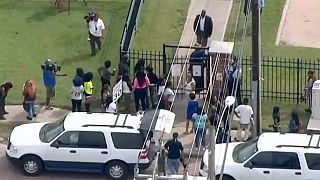 One person has been killed and another wounded in a shooting incident at Texas University, police said. A suspect has been taken into custody.
The school with around 9,700 students was placed on lockdown after the shooting.and all classes cancelled. Authorities have not yet identified the suspect or the victims.
The latest in a series of school shootings came several hours after another fatal incident on the campus of Northern Arizona University in Flagstaff on Friday morning.
One person was killed in Flagstaff and three wounded when an 18-year-old student opened fire with a hand gun. The suspected gunman was named as student Steven Jones who surrendered to police. The University said the three wounded are being treated in hospital.
The deaths came on the day President Barack Obama travelled to Oregon to meet families and victims of last week's massacre in which ten people died.