Deadly shooting on college campus in Arizona
Comments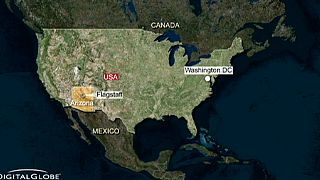 One person is dead and three others have been wounded in a college shooting in the US.
An attacker is reported to have opened fire on the Northern Arizona University's Flagstaff campus early on Friday morning close to a dormitory which houses most of the students involved in Greek organisations.
A university spokesperson said the suspected shooter is being held in custody.
The news comes just a day after the first of a series of public memorial services for those who were killed in the the shooting at a community college in Oregon last week.
Ten people died in the rampage carried out by Chris Harper-Mercer who exchanged gunfire with the police before turning the gun on himself.
The massacre has reignited the national debate over gun control.
President Barack Obama is scheduled to travel to the college in Oregon to meet families of the victims on Friday.