Yemen wedding brothers killed in rocket strike
Comments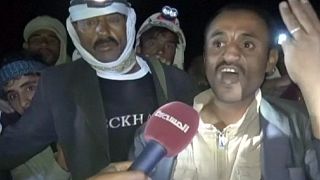 Three brothers getting ready for a joint wedding have been killed in a rocket attack in the southwest of Yemen. Locals say Saudi-led coalition jets were probably responsible.
The coalition are battling Iran-backed Houthis in Yemen. It has been accused by officials and residents of killing civilians in two other attacks in as many weeks.
"In this wedding three brothers were killed," explained an unnamed resident. "The brides were entering the home and then the rockets hit. The dead include women and girls and children on a wedding day."
The Saudi-led forces also faced international criticism after an airstrike killed more than 130 people at a wedding party on September 28.