Rome mayor resigns over lavish restaurant expenses
Comments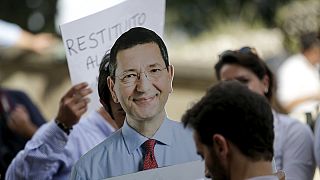 The mayor of Rome has resigned after a scandal over his credit card expenses. Ignazio Marino, a member of Italian Prime Minister Matteo Renzi's ruling Democratic Party (PD), is said to have become an election liability for his leader.
Marino denied allegations that he used about 20,000 euros of city money to wine and dine his family and friends in what has become known as the "dinner gate" affair.
On one occasion he claimed to have dined out with the ambassador of Vietnam, who promptly denied the encounter.
The 60-year-old former liver surgeon-turned-politician has seen his position weaken steadily since the end of 2014 when prosecutors denounced a network of corruption in Rome known as the "Capital Mafia" scandal.
Renzi's ratings were also dragged down by the city's trouble.
The mayor's resignation letter called the receipts scandal "a squalid and manipulated polemic."
Marino said he was paying the price for taking on entrenched corruption and feared Rome would now fall back into its old ways.