Brazil: Federal Court says Rousseff government cooked the books
Comments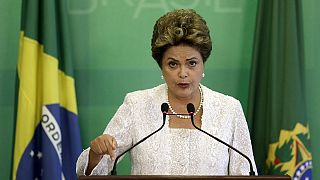 Brazil's beleaguered President has been dealt another major blow.
The country's federal court has rejected Dilma Rousseff's government's latest accounts, paving the way for her opponents to try and impeach her and possibly triggering fresh elections.
Ouverture d'une enquête sur les comptes de campagne de Dilma Rousseff http://t.co/A9kWW1ombgpic.twitter.com/RYv0ofCYe7

—

RFI

(@RFI) 7 Octobre 2015
The court decided unanimously that Rousseff's government manipulated the books by more than 20 billion euros in 2014, the year they campaigned for re-election.
They allege it was to cover up a widening fiscal deficit.
Operação Zelotes suspeita de repasse de R$ 1,8 mi a ministro do TCU: http://t.co/FrsBeu4l5Dpic.twitter.com/6S7pVdhiGy

— CartaCapital (@cartacapital) 7 Octobre 2015
"Nations fall when their institutions fail to fulfill their missions. We fulfilled our mission in a technical, transparent manner in search of a better future for the country," said Augusto Nardes, a member of the Federal Court (TCU).
It is the first time in 80 years the court has made such a ruling.
Gov. comprometido c/ a população tem sempre de cuidar das finanças. Mas tem tbm de fazer mais p/ os q mais precisam. #MaisCasaMaisVida

— Dilma Rousseff (@dilmabr) 7 Octobre 2015
Rousseff's office says it is not legally binding and an appeal is planned. Her supporters claim the court unduly penalises actions it fears will threaten social support for Brazil's poor.