Rio Olympic organisers to cut lavish spending by almost 30 percent
Comments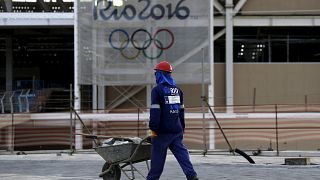 Rio 2016 organisers have been forced to make major cutbacks in order to stay within the $1.9 billion operational budget, it was announced Tuesday.
In the final spending review before the Olympics, organisers, constrained by a privately-funded budget and a worsening economy deep in recession, have asked some departments to cut estimated costs by as much as 30 percent.
"We need to organize the games to be economically sustainable. There is no more space for lavish overspending," said Mario Andrada, communications director at Rio 2016.
"We are adjusting minor things: printing, backstage structures, structures that are not necessary for the field of play."
The changes being brought in include reducing the number of event volunteers and encouraging them to work both at the Olympics and the Paralympics, which would cut the cost of uniforms, transportation and food.
Further savings are thought to come from cutting the budget for the opening and closing ceremonies as well as ordering less printed material, though the actual Olympic venues, which are funded separately, will not be affected.
"What we are trying to do is identify if there is any fat and save on the fat," Andrada stressed. "We cannot go a penny over budget."
Last year's FIFA World Cup in Brazil was greeted wth large-scale protests over the soaring costs of staging the event, and Rio 2016 officials are determined to avoid a repeat.
Andrada added: "People get upset about luxury and excess, we have to tighten our belts."
The cost-cutting analysis is expected to be completed by next week. Andrada later said that without the additional savings, the organising committee was projected to overspend by about ten percent.
Concerns have also been raised over the lack of demand for tickets, the sales of which amount to a significant part of the organising committee's revenue generated from hosting the Games.
So far, only four million out of seven-and-a-half million tickets have been bought.
In an effort to make tickets more appealing, officials have now decided on a first-come first-serve system, and will allow the public to pay for any purchases in several installments.