Why has a former head of the IMF had his passport confiscated?
Comments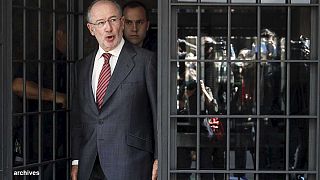 Former Spanish Economy Minister Rodrigo Rato has had his passport confiscated by a court in Spain. Mr Rato is under investigation for money laundering, tax fraud and corruption. He has denied any wrongdoing.
As well as his national role in Spain, 66-year-old Mr Rato is a former head of the Washington-based International Monetary Fund (IMF) and an ex-Chairman of the bailed-out Spanish bank, Bankia.
He is the third head of the IMF to have trouble with the law. The case of his immediate successor, Dominique Strauss-Kahn, is well documented
The incumbent, Christine Lagarde has also been involved in a high-profile court case in France.
Here is an easy-to-digest euronews primer giving you all the information you need to know about the story.
Who is it about?
66-year-old Rodrigo Rato is a former Spanish Economy Minister. He is also a former head of the International Monetary Fund (IMF) and ex-chairman of the bailed-out Spanish bank, Bankia.
He was a key figure in Spain's governing People's Party and was favourite to become party leader in the early 2000's.
Ex-IMF chief Rodrigo Rato has passport seized by judge during corruption investigation http://t.co/cxC1o9QQf2pic.twitter.com/G6XIm3yfgI

— El País in English (@elpaisinenglish) 6 Octobre 2015
Watchers see the judicial investigation into his affairs as a potential embarrassment for the centre-right party in the run-up to national elections this December.
What is the latest news?
Mr Rato's passport has been confiscated as a "precautionary measure", according to a court in Madrid.
The Madrid court investigating how he handled his personal wealth said last month it had frozen some of his assets after he failed to deposit funds to cover possible liabilities.
He will be able to travel within the European Union using his Spanish identity card but will also have to check in with the Madrid court once a month.
Why was his passport confiscated?
An investigation is underway into allegations of money laundering, tax fraud and corruption against Mr Rato.
In a separate case, Spain's High Court is investigating the 2011 flotation of Bankia, which took place on his watch. The lender had to be bailed out by the state less than a year later.
Magistrates are also looking into alleged misuse of company credit cards for personal expenses by top staff during Mr Rato's tenure at the bank.
Rodrigo Rato dice estar convencido de su "rectitud" con la adjudicación de la publicidad de Bankia (risas enlatadas) http://t.co/RbaPCbGP1b

— Ignacio Escolar (@iescolar) 7 Octobre 2015
Mr Rato has denied wrongdoing in both cases.
Where is all this taking place?
Ex-IMF chief Spanish politican Rodrigo Rato remains tight-lipped when quizzed on fraud charges http://t.co/romr4fuFqhpic.twitter.com/DBOJ4WEAWA

— Fiona Govan (@fifimadrid) 23 Juillet 2015
In Madrid, Spain. Television news footage showed Mr Rato being hounded by the media as he left court on Tuesday. He had been questioned for three hours by an examining magistrate. He has become the focus of Spanish public anger over cases of alleged high-level corruption in institutions, played out against the backdrop of a brutal recession coupled with severe austerity cuts.
When will the next stage be?
The cases are ongoing.
Sixteen witnesses will take the stand in the court in Madrid on Wednesday and Thursday.