People traffickers face tougher EU naval action in Med
Comments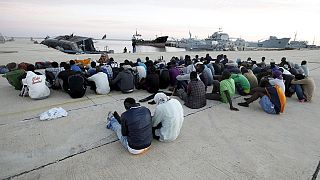 People smuggling in the Mediterranean Sea faces a new challenge: a navy crackdown under international law, as the European Union's naval operation goes over to the offensive. So far it has been gathering intelligence.
EUNAVFOR Med, as it was called, has been renamed "Sophia", and is empowered to board suspect vessels, search and impound them. The namesake of the operation is a baby born on board a rescue ship in August, off Libya.
The EU High Representative for Foreign Affairs and Security Policy Federica Mogherini described Operation Sophia as part of a comprehensive approach to migration. As a part of this, British navy ship Enterprise docked in the Italian port of Catania on Tuesday with more than 600 rescued Eritrean refugees on board.
In Tajoura, Libya, Red Crescent teams on Monday recovered more than 70 bodies of people who had drowned during their attempt to cross the Mediterranean to reach Europe; most of them had nothing to identify them.