Graham Jarvis beats Jonny Walker in thrilling Red Bull Sea to Sky Enduro final in Turkey
Comments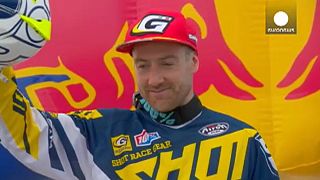 The gruelling Enduro season came to its exciting conclusion at the Red Bull Sea to Sky event in Turkey on Sunday.
The punters' money was on Britain's Jonny Walker. A victory for him would have allowed him to wrap up a perfect season and clinch the 2015 Grand Slam.
He was in the lead for the best part of the race but after a customary slow start his compatriot Graham Jarvis charged ahead on Olympos Mountain and Walker could only watch as he sped into the distance.
Jarvis gambled by missing a final chance to refuel and it paid off as he crossed the finish line a clear winner.
Walker came in second with South African Wade Young taking third.
I was in front for a while! pic.twitter.com/DM1k1Dknb0

— Graham Jarvis (@GrahamJarvis1) 6 Octobre 2015