Calm in Kunduz following air strike, but MSF demands answers
Comments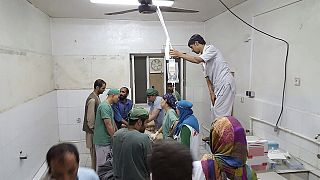 Kunduz has seen a return to calmer times after an air strike on a hospital in the northern Afghan city killed at least 22 people.
Reports suggest the Taliban has maintained control of some areas. However, Afghan troops say they have taken back a number of strategic points, including a provincial government building.
On Monday (October 5), the army distributed aid to local residents. Jan Mohammad described the conditions following the Taliban takeover:
"All shops were closed for the last week. We could not find wheat, a loaf of bread to eat, or water to drink. People were having all sorts of problems."
Both the United Nations and the aid agency Médecins Sans Frontières (MSF) have condemned the strike and called for an inquiry into the incident. At least 12 of the victims were MSF staff members.
Nurse Lajos Zoltan Jecs was asleep in the Kunduz hospital when the bombardment happened.
"What is in my heart since this morning is that this is completely unacceptable. How can this happen? What is the benefit of this? Destroying a hospital and so many lives, for nothing. I cannot find words for this," he wrote on the MSF website.
The organisation has since withdrawn its staff members from the city.
Why?
Reasons for the attack have varied from collateral damage to a tragic mistake to blaming the Afghan government.
The US is widely believed to have been involved in the strike in some way.
A White House statement labelled the attack a "profound tragedy."
Spokesman Josh Earnest said the US goes to great lengths to avoid civilian casualties and added:
"The scale of this tragedy is significant enough… So there are actually three different investigation ongoing. Each of these investigations will be aimed at trying to get as much accuracy as possible around the details of what transpired and the lead up to this tragedy."
Suggestions Taliban militants were hiding in the hospital have been firmly denied by MSF. It has placed the responsibility squarely on Washington's shoulders.
In war zones, NGOs often reluctant to say who's responsible if it's govts. MSF changing that. http://t.co/M4ShxpWblypic.twitter.com/aCP5SjCnzn

— Peter Maass (@maassp) October 5, 2015